My Experience with @yoga_girl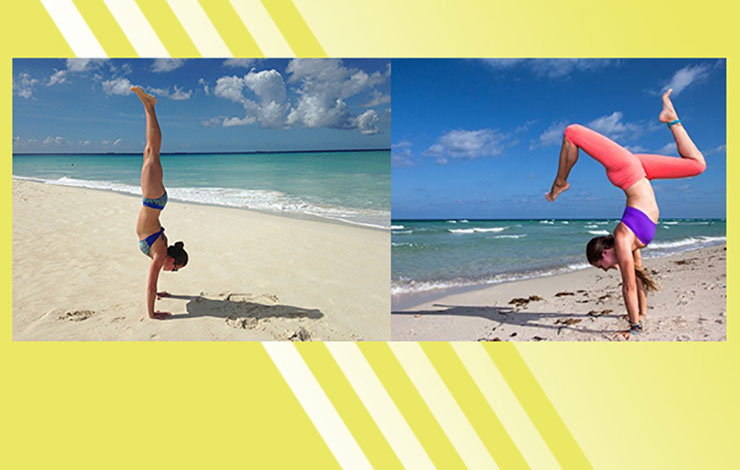 I want to share about my experience with Rachel Brathen, more commonly known as @yoga_girl. If you don't know who that is, Rachel is a yoga instructor living in Aruba, she is known worldwide and much of her notability comes from her 462,741 Instagram followers. This then spread to Facebook and YouTube and now she is arguably one famous yogi. I have followed her for quite some time, I think her photos are beautiful and I find her words to be inspiring, however not everyone agrees. There are many people that criticize her for basically everything, being too perfect, being fake, being too showy, for preaching, the list goes on and on. I always found that a bit annoying since one has to choose to follow her (or anyone else), if you don't like them why waste the energy hating, why not just unfollow?
Anyways, as my boyfriend, our friend and I were planning our holiday we had some criteria: hot beautiful weather, good diving, WestJet destination, and we had to travel between certain dates. As I started to cross-reference all of that I saw Aruba… well I was sold because Rachel teaches there. It worked out for everyone and so we headed to Aruba. I wasn't sure I would get to practice with her as she travels a lot but there is lots of yoga on the island, plus we would be in Aruba, so I wasn't too concerned. Yet it all fell into place and I did get to take her class.
I saw she was teaching an 8:30am class the day after we arrived, so I figured out the taxi ride and what time I would have to leave; I am all excited, only to find out there is a sub. I had emailed her many times to no reply so I just took my chances. That's the thing about expectations, the class was good but I was let down having had an expectation of taking Rachel's class. Still she was scheduled to teach 2 more public classes while I was there, (I had emailed about a private class but no response).
I get myself, my boyfriend and our friend there for her next class… to find out that her fiancé was teaching. Ok, no problem, maybe he can tell me when I can take her class. His class rocked and Rachel was practicing beside me so that was cool. It was a bit of a challenge to keep my eye on myself and my own mat when she was practicing beside me.
Finally I did get to take her class and it was great. She led us through a vinyassa flow, lots of core, some fun sequencing, following the general layout of a vinyassa flow class. She wasn't showy in fact she did not do any of the practice herself and was very hands on with her students, I picked up a great Vasisthasana (side plank) and ekapadarajakapota (pigeon) adjustment that I will use. The class was under a tent on the beach in Aruba, the sounds of the ocean, the breeze, and some warm showers made for a lovely evening.
I am happy I was able to take her class not because she is famous but because I wanted to see for myself what she was really like, and as I suspected; she is just a normal person like everyone else.
I hope that we can all start elevating one another instead of shaming others for what they have to share. I have noticed that people can have a tendency towards judgment and jealousy but what if we all worked together to cultivate our higher qualities, love, compassion, excitement for others, and at the very least if you are not into what elevates others, simply move on. It is time for us to wake up, step out of our day-to-day drama and into our roles of elevating consciousness. It is time to stop bagging on people that are simply doing what they love and cultivate our own passion and commitment to our dharma and life's work. Thank you to Rachel and all my teachers for continually connecting me to me, encouraging all versions of myself to reveal themselves and allowing me the space to unify them so I can try to move from a more honest place.
Namaste, Love Chelsea Ray