Yoga is for Everyone!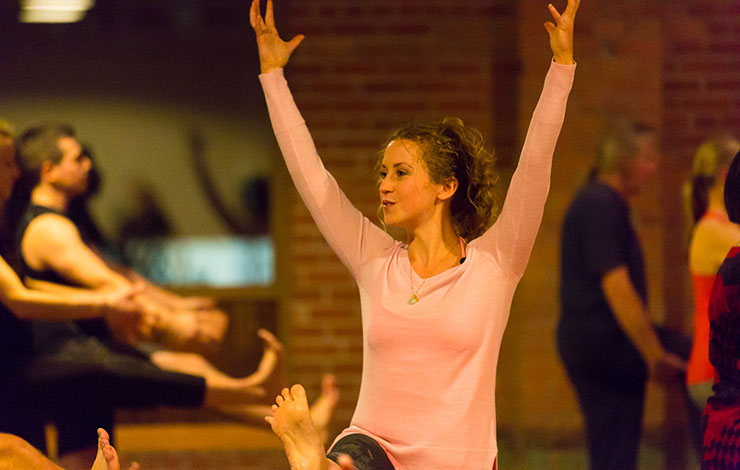 Thank you Colin Krieg for the video.
Yoga is for Everyone from ChelseaRay on Vimeo.
On December 2nd 2013 lululemon organized a wonderful community class open to everyone, and they asked me to lead it. The class came together as a beautiful way to bring awareness to The Bridge*.
I was so nervous I almost got another teacher to teach this class but in my teachings I work to elevate each and every student and hold space for their empowerment. I felt like it would be hypocritical to back down due to my own fear and self-judgement. So on December 2nd one of the snowiest days we had this winter with many roads closed over 120 people came out to practice together, raise the vibration, and support our community.
This evenings turned out to be amazing, lululemon donated $1500.00 to The Bridge in support of their yoga program. They are able to get blocks and bolsters with this which is such a blessing for the students. I have been fortunate enough to bear witness to the impact yoga has at The Bridge, and it is life changing. To see the transformation from week one where no one can lie still or close their eyes, they are full of fear and resistance, standing behind injuries and physical concerns as a mask for deeper pain. Come week six they have a deep understanding of breath control, meditation, sitting in stillness, connection to their body, and moments of peace. Many of the students tell me yoga will remain a part of their recovery program long after they leave Bridges.
Thank you to each and every one of you who came out to Yoga is for Everyone and all of you who support large change and hope in our community.
~with love Chelsea Ray
'The Bridge provides 20 residential beds to those seeking intensive substance abuse treatment. The program is 6 weeks in duration and consists of a variety of programming.
The Program: - is highly structured and intensive. - is person centered which means that we meet each client where they are and honor their unique individual process. - is offered in a safe, substance free, live-in environment. - will begin with a comprehensive intake assessment that will inform and direct individualized treatment goals and transition planning. - provides a therapeutic and safe environment to examine the underlying factors of participants' substance use. - focuses on practicing skills to deal with issues such as boundary setting, communication, stress management, anger management and relapse prevention. - addresses mental health and substance use issues simultaneously.'
http://www.thebridgeservices.ca/intensive-residential-treatment